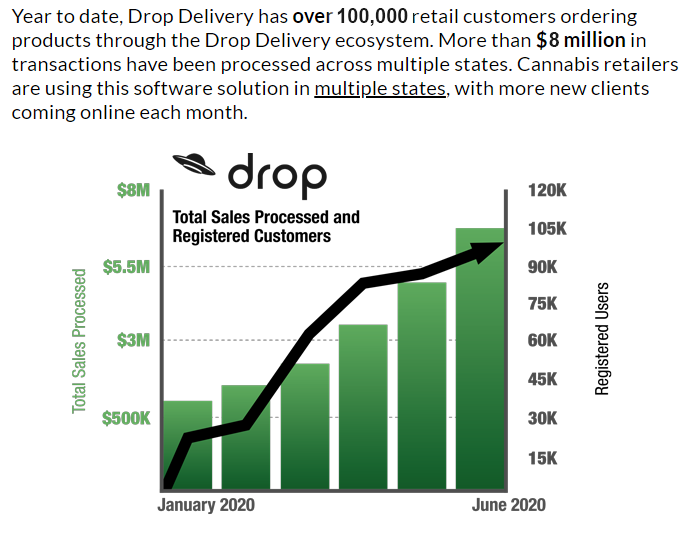 The Top 5 Reasons To Consider Investing In Drop Delivery
REASON #1: The founders have a proven track record of success in the cannabis industry.
Vanessa Gabriel, CEO and co-founder of Drop, is also the founder of multiple startups. Most notably, her previous cannabis company, Greenlight, was acquired by a publicly traded cannabis company within 9 months of launching. The entire Greenlight management team is now working together to build Drop Delivery, with goals to take the company all the way to IPO.
REASON #2: An existing appetite for last-mile acquisitions.
International brands have already proven their willingness to buy companies who can streamline their supply chain and offer increased last mile delivery solutions. This means Drop Delivery could become a potential target for an acquisition by a large "Multi State Operator," or otherwise receive outside investments for strategic partnerships.
REASON #3: The user data could be a goldmine for a potential acquirer.
While there are other technology solutions in the market today, many of them solve only a small portion of problems facing cannabis retailers today. Integrating these siloed solutions together creates potentially large compliance risks as well as added costs.
Drop Delivery is a complete, end-to-end platform that can handle sales and marketing, compliance, digital payments, banking issues, and last mile delivery, and does so at a competitive price. This means there is no data loss between multiple technology solutions, which in turn provides greater opportunities to leverage data and analytics tools to increase profits for cannabis retailers.
More importantly, the Drop Delivery platform is built on the same infrastructure high-growth tech companies like Uber, Alibaba, and Pinterest all currently use.
REASON #4: The company is growing their revenue by 41%, quarter-over-quarter, showing strong growth.
Year to date, Drop Delivery has over 96,000 retail customers ordering products through the Drop Delivery ecosystem. More than $6 million in transactions have been processed across multiple states. Cannabis retailers are using this software solution in multiple states, with more new clients coming online each month.
 REASON #5: The technology is easily portable into other verticals..
Because this platform is designed to operate in the most challenging of regulatory and compliance regimes, it's logical to suggest other regulated businesses – like pharmacies and liquor stores – could be next to adopt this technology