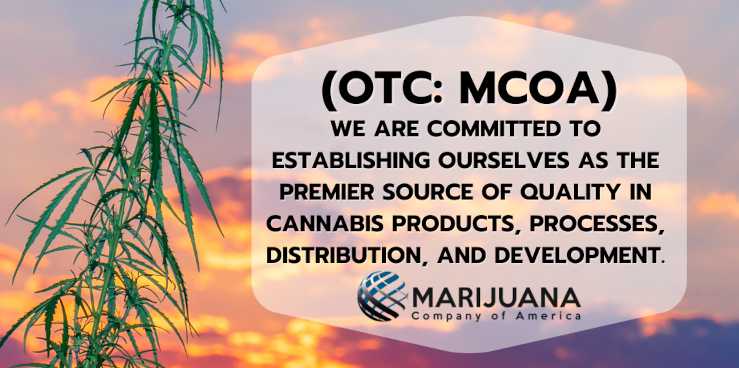 It should come as no surprise that the CBD business, like all others, has had to contend with additional struggles in 2020 as a result of the global COVID-19 pandemic. However, if anything, that gives opportunistic investors such as us all the more chance to get involved at an opportune moment. The CBD industry itself is still on track to be valued at well over $20B in the near future, with or without the coronavirus. Indeed, now is a fantastic time to speculate with low priced OTC-traded marijuana stocks, and MCOA is among our favorites.
MCOA is an emerging industry leader with focus in product development and sales & marketing with its proprietary botanical ingredients legal hemp-based cannabidiol ("CBD") quality products under the brand name "hempSMART™".  The Company's premium quality products are double lab tested for purity and potency and sold to wholesalers, distributors, via online e commerce consumer platform, and a proven network affiliate marketing program.  The Company recently announced plans for international sales, production, and marketing expansion.
MCOA focusses on four key distribution types:
Network Affiliate Program: MCOA associates harness the power of affiliate marketing to bring on more sales and build a team to spread our products in the quickest fashion possible.
Retail E – Commerce Program: Direct to consumer via online sales provides a seamless purchase process while allowing marketing campaigns to reach a wider audience. 
Retail / Medical: MCOA anticipate launching a new sales strategy distributing to doctors' offices, healthcare, spas, and health clubs.
Wholesale Direct: Bulk orders provide MCOA customers healthy margins to sell MCOA products at a profit.
Mission Statement
At Marijuana Company of America, our mission is to continue our commitment to becoming a global leader in the legal production, processing, and distribution of cannabis products. Cannabis products are separated into two categories: Hemp (CBD) and Cannabis (THC), MCOA focuses on both. We believe the future of the cannabis industry is bright, we have built for the future in pursuit of long-term sustainability through the development of the finest quality cannabis products and the best business practices in an emerging market. We are dedicated to achieving customer satisfaction by self-imposing the most rigorous standards in product research and development through the oversight of our industry-established management and staff.
Our company seeks to contribute to the cannabis industry as a strategic vertically integrated acquisition company. All of our efforts and investments are made with the mission of adding value and quality in the brands and processes we innovate, develop, and operate in the cannabis industry. We do not seek to maintain; we seek to grow. We are committed to becoming the seeds of change, and to establish ourselves as the premier source of quality in cannabis products, processes, distribution, and development.  
MCOA is a visionary, scientifically driven Hemp | CBD corporation. We are industry leaders in premium CBD products created with proprietary CBD-based botanical ingredients that support the wisdom of every cell in the body. We are proud of our accomplishments and seek to become The Brand you can Trust!