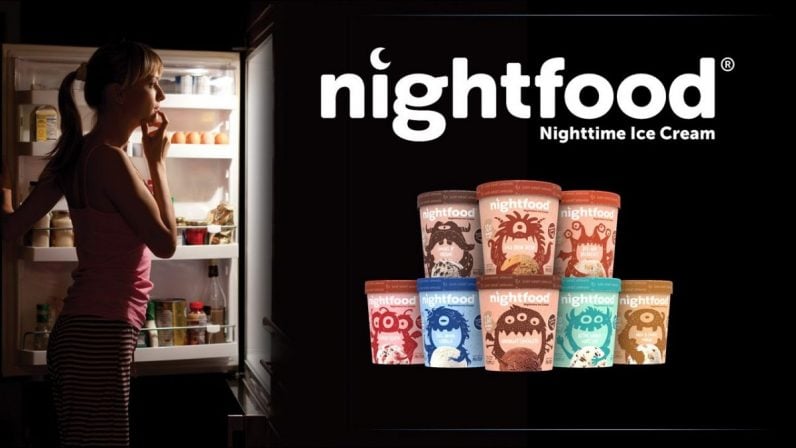 Nightfood Holdings, Inc. (OTCQB: NGTF), owns Nightfood, Inc. and MJ Munchies, Inc.
On Feb 8, 2019, it was announced that Nightfood ice cream won the 2019 Product of the Year award in the ice cream category in a Kantar survey of over 40,000 consumers. On June 27, 2019, Nightfood announced it had won Best New Ice Cream in the 2019 World Dairy Innovation Awards.
With the overwhelming majority of at-home ice cream consumption occurring in the hours before bed, Nightfood believes its sleep-friendly nighttime ice cream, formulated by sleep and nutrition experts, is the next evolution in the significant better-for-you ice cream category.
Market research giant Mintel identified nighttime specific food and beverages as one of their most "compelling and category changing" trends for the coming years
After manufacturing their first pint in early 2019, Nightfood ice cream is quickly establishing a national footprint. The brand has recently announced distribution in four of the top fifty supermarket chains in the United States. This includes over 100 locations of the Meijer supermarket chain throughout the Midwest, with concentration around the metropolitan areas of Chicago, Detroit, Indianapolis, Columbus, and Milwaukee, Lowe's Foods, with 78 stores in the Carolinas, and Harris Teeter, with over 250 locations in North Carolina, South Carolina, Virginia, Georgia, Maryland, Delaware, Florida, and the District of Columbia.
MJ Munchies, Inc. was formed in 2018 as a new, wholly owned subsidiary of Nightfood Holdings, Inc. to capitalize on legally compliant opportunities in the CBD and marijuana edibles and related spaces. The Company is seeking licensing opportunities to market such products under the brand name "Half-Baked", for which they've successfully secured trademark rights.
Market Cap – 14,966,022 02/06/2020
Authorized Shares – 200,000,000 02/03/2020
Outstanding Shares – 57,561,624 02/03/2020
Restricted – 20,023,503 02/03/2020
Unrestricted – 37,538,121 02/03/2020
Held at DTC – 36,550,263 02/03/2020
Float – 34,890,568 10/11/2019
Shareholders of Record – 193 07/03/2019
Short Interest – 22,535 (0.66%) 01/15/2020
Transfer Agent – ClearTrust, LLC