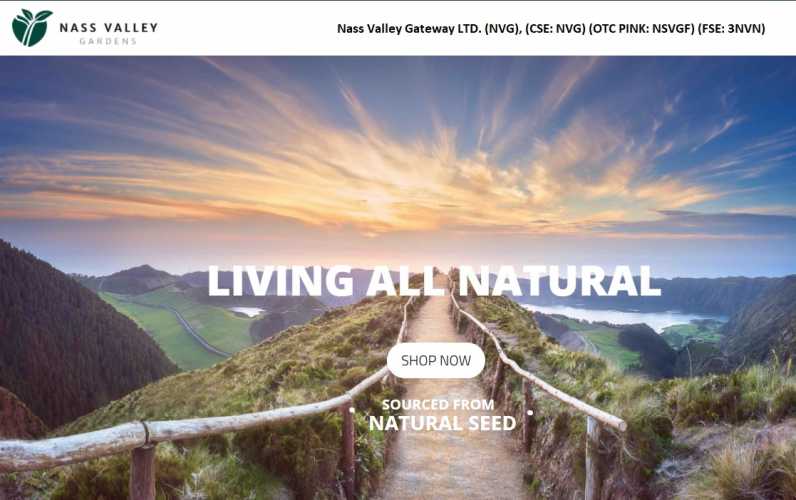 Nass Valley Gateway LTD (NVG) is a publicly traded company on the (CSE: NVG) (OTC PINK: NSVGF) (FSE: 3NVN), in the Life Sciences category. In late 2018, Nass Valley Gateway agreed to merge with Advanced Bioceuticals Limited, a New Jersey LLC focused on the cultivation, extraction, and sales of organic, non-GMO hemp-based, CBD products. These products are sold under the "Nass Valley Gardens" brand via retail, wholesale, direct response, and digital sales channels.
By promoting their CBD products via broadcast and digital media, NVG will methodically build a national base of retail and wholesale customers who will enjoy NVG's unique, highest quality, CBD products. The goal for NVG is to build market share through organic sales while also acquiring companies aligned with the NVG mission and culture that will also be immediately accretive to NVG earnings. NVG will leverage their customers' desire to use natural, non-pharma beauty and lifestyle therapies and provide them with NVG's proprietary high-absorption, CBD products. The results will be increased market share, revenue acceleration, and greater shareholder value.

Nass Valley Gateway Ltd Enters Strategic Partnership With New Hope Labs to Heighten Scalability and Propel Growth – In a Move to Be Among the Industry's Leading Natural Seed Hemp Growers in the World, Company Gains Access to Significant Farming Acreage and Manufacturing Capabilities to Exponentially Bolster Production. Read More.
Nass Valley Gateway Ltd. Redesigns Brand and Packaging to Reflect New Line of Premium CBD Products – National Wholesale and Retail Sales Efforts to Launch for Newly Rebranded Expanding Product Line of Top Quality, Broad and Full Spectrum CBD. Read More.
Nass Valley boasts an impressive group of seasoned industry veterans with vast and diversified experience in running public companies and inside of the Health and Welness markets. Company CEO Gavin Collier personifies this blend of experience and expertise. Mr. Collier is an experienced scientist, legal practitioner, and business executive, which provides any team he is a part of with competent leadership. Mr. Collier provides a thoughtful critical thinking approach, which is an asset to the many successful businesses he has co-founded, founded, and sold. Mr. Collier sits on the board of several companies and is currently Chairman for NarcX, Inc.
COO Jordan Erskine is a highly motivated entrepreneur who has co-founded & sold many successful businesses. Jordan has over 17 years in the personal care/skincare industry. Jordan currently serves as President for the award-winning contract manufacturer Dynamic Blending. Jordan also serves as Chief Operating Officer for NarcX.
CFO Michael Semler is also member of the Board of Directors of Nass Valley Gateway Ltd. He has worked in finance and marketing in the healthcare and wellness business for the last 15 years. He led the capital fundraising for Advanced Bioceuticals Ltd prior to its merger with NassValley Gateway and maintains financial relationships with NVG's banking, private equity, and investor partners. Along with the executive management and accounting teams, he leads the strategic financial direction of NVG and oversees its financial reporting practices. Prior to Nass Valley Gateway, he was CFO of Advanced Bioceuticals and was also CFO of Cause Capital Inc., who produced marketing and advertising solutions for healthcare brands and healthcare advocacy NGOs.
Currently, Nass Valley Gardens is offering the only true Non-GMO product. Nass Valley Gardens values transparency and they are here to show you that Hemp is very powerful when grown correctly. No matter how hard humans try to improve and modify what we consume, nature still and will always do it best. That's why they believe that their non-GMO seed is what makes their products so incredible – sourced from natural seed ONLY and uses organic, safe and efficient practices to maintain the integrity all the way through its creation. Over 300 analytic tests are performed on their products and provides Nass Valley Gardens detailed information on the efficacy of our product before it gets into your hands. Nass Valley Gardens promises to only deliver products that are pure, clean, and made for love.