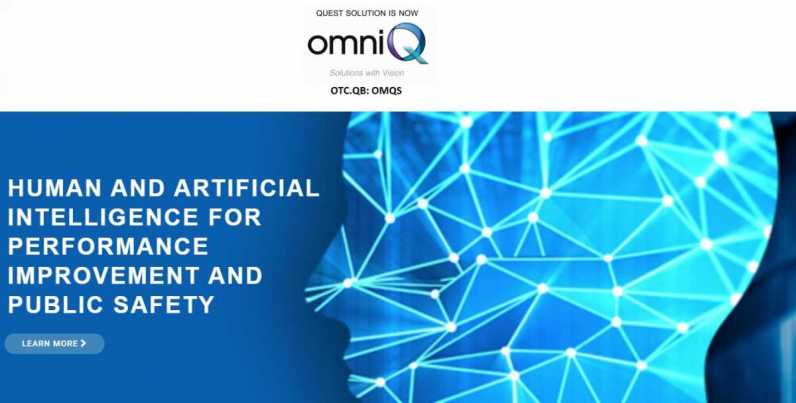 OMNIQ Corp. (OTCQB: OMQS) provides computerized and machine vision image processing solutions that use patented and proprietary AI technology to deliver data collection, real-time surveillance and monitoring for supply chain management, homeland security, public safety, traffic & parking management and access control applications. The technology and services provided by the Company help clients move people, assets and data safely and securely through airports, warehouses, schools, national borders, and many other applications and environments.
OMNIQ's customers include government agencies and leading Fortune 500 companies from several sectors, including manufacturing, retail, distribution, food and beverage, transportation and logistics, healthcare, and oil, gas, and chemicals. Since 2014, annual revenues have grown to more than $50 million from clients in the USA and abroad.
The Company currently addresses several billion-dollar markets, including the Global Safe City market, forecast to grow to $29 billion by 2022, and the Ticketless Safe Parking market, forecast to grow to $5.2 billion by 2023.
Recent Highlights:
OMNIQ Corp. Awarded $1.8-Million Project from a Multi-billion Dollar Global Metal Solutions Provider
Project includes supply of mobile devices, software and services for the implementation of an advanced logistics program for product deliveries
Award follows over $7.5 million in orders from the Healthcare and Logistic Services verticals announced during Q3
OMNIQ Corp. Announces Deployment of AI-based SeeDOT™️ Systems for Southern U.S. State
State benefits from accurate and efficient monitoring of commercial vehicles at weigh stations using OMNIQ's Neural Network-based algorithm
Three of 14 SeeDOT

™️

systems ordered have now been installed
OMNIQ Corp. Receives Additional $1.3 Million in Orders from a Worldwide Leader in the Transport and Logistics Sector for a Total of $3.5 Million since August 2020
Total project value of $3.5 million exceeds expected $3.0 million announced in August 2020
The orders are for the supply of mobile data collection devices equipped with advanced communication capabilities
Customer operates over 100 warehouses in the U.S. with over 40 million sq. ft. of warehousing space