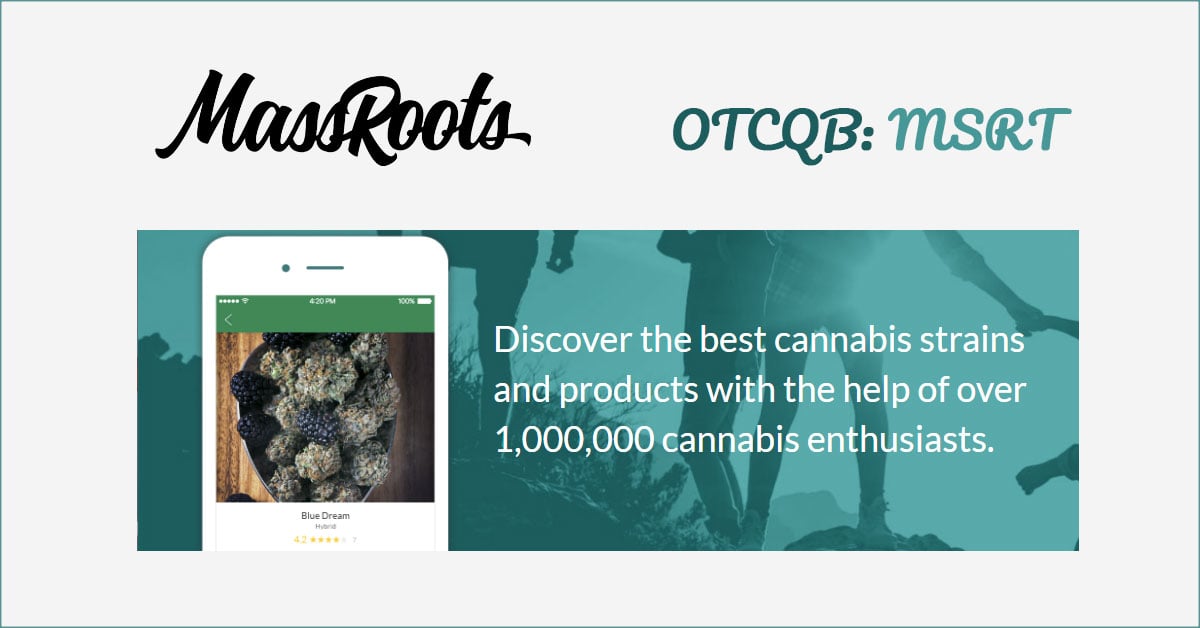 MassRoots, Inc. is a leading technology platform for the regulated cannabis industry. Powered by more than one million registered users, the Company's mobile apps empower consumers to make educated cannabis purchasing decisions through community-driven reviews. Its rewards program, WeedPassTM, enables consumers to earn tickets to movies, sporting events, and festivals by shopping at participating dispensaries. MassRoots has been covered by CNN, CNBC, Fox Business, Fortune, Forbes, and Reuters. For more information, please visit www.MassRoots.com/Investors and review MassRoots' filings with the U.S. Securities and Exchange Commission.
Cannabis Technology & Services
Recently announced planned acquisition of COWA Science Corporation, which had $1.5 million in 2018 revenue (unaudited)
Expected to expand offerings to include supplies, nutrients, packaging & HVAC solutions
WeedPass™ Rewards Program
Focused on creating monthly recurring revenue from dispensaries
Incentivizes consumer loyalty
MassRoots Mobile App & Social Media
1.3M downloads
Locate and rate cannabis dispensaries, strains and brands
Trusted Relationships
MassRoots has its fingers on the pulse of cannabis enthusiasts through its dispensary network, app users and social media base
490k Facebook followers
410k Instagram followers
180k Twitter followers
Tens of thousands of SnapChat followers
Investor Value
Providing investors exposure to cannabis industry growth through technology without touching the plant itself
Dispensary Listing Fees
After an introductory free trial period, MassRoots charges dispensaries a monthly fee to list on its dispensary finder, gain exposure to MassRoots' audience of cannabis enthusiasts, and gain access to its business portal.
Consumer Rewards
Through its partnership with Snipp Interactive, consumers will soon be able to earn points for their cannabis purchases through our WeedPass Rewards Program; consumers will be able to spend these points on rewards, such as festival or concert tickets, of which MassRoots is expected to make a spread.
Brand Engagement
Beginning in Q2 2019, MassRoots is expected to begin allowing brands to sponsor rewards packages – requiring consumers to purchase certain brands' products in order to gain certain rewards, for which MassRoots will charge a fee.
U.S. Cannabis Market & Growth
The U.S. regulated cannabis market is forecast to grow at a 22% compound annual growth rate from $8.5B in 2017 to $23.4B in 2022, according to a 2018 BDS Analytics Report;
Canada and California are expected to generate 41% of global cannabis sales, or $13.2 billion, by 2022 according to the same BDS Analytics Report; and
Concentrates and edibles continue to gain popularity, with the "flower" making up only 47% of total cannabis sales in Colorado in 2017, according to the same BDS Analytics Report.
Growing Client Base and Book of Business
MassRoots currently has over 140 dispensaries that have participated in its advertising and rewards programs and COWA has approximately 50 clients ordering its supplychain products and services.
Currently, the Companies are focused on the Denver and Los Angeles markets with plans to expand to San Francisco, San Diego, and Phoenix markets in Q2 2019;
We believe there is a significant opportunity to crosspollinate the existing client bases of MassRoots and COWA with a focus on increasing the dollar-volume spend per client; and
The combined companies possess a diversified client base of dispensaries, grow facilities and hemp-focused businesses, with 9 clients placing more than $50,000 in orders each in fiscal year 2018.
Market Info
Market Cap: 1,347,828 09/19/2019
Authorized Shares: 500,000,000 09/18/2019
Outstanding Shares: 345,597,045 09/18/2019
Float: 143,426,307 04/20/2019
Shareholders of Record: 140 04/16/2019
Short Interest: 58,536 (1268.62%) 08/15/2019
Transfer Agent: Pacific Stock Transfer Co.