LOS ANGELES, CA, Feb. 05, 2018 (GLOBE NEWSWIRE) — Right On Brands, Inc. (OTCQB: RTON) new CBD based Endo Water™ product is now available at a rapidly growing list of Southern California retailers. Retail interest is strong for the product and has already suggested to Company management that retail orders may easily exceed existing supplies, Right On brands is prepping for a larger run to feed demand.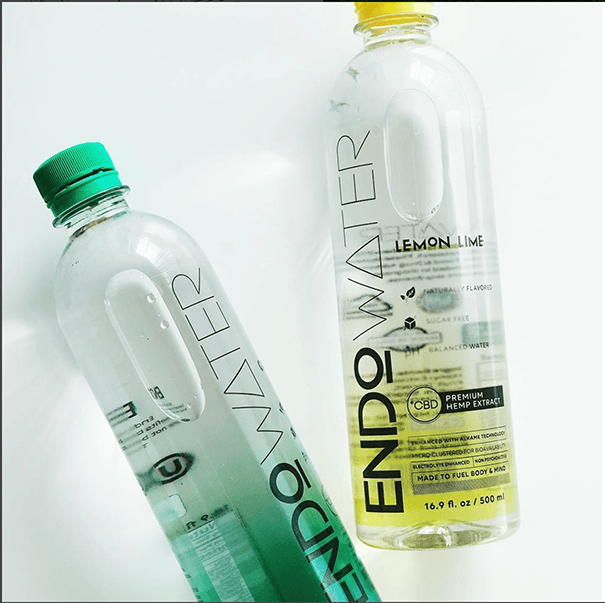 Available in four flavors: Berry Acai, Lemon Lime, Cucumber, Watermelon
Purchasing information is available on the corporate website.
Ordering information: https://RightOnBrands.com or https://www.endobrands.com/
Interested retailers, please contact Statewide Beverage at: (323) 767-1500
Endo Water™ is a pH balanced water infused with a 99.9% pure cannabinoid-rich hemp oil processed using Nano Technology that makes the particles one-millionth of its normal size. This process allows the Nano-Sized CBD's to immediately penetrate your cells as opposed to the lengthy process of being absorbed by the body's digestive system. All CBD offerings will be a part of Endo Brands™ family of products a wholly owned subsidiary of Right On Brands.
"The reaction to the first week of in-market sales has been amazing. We have gained some high profiles accounts, and are set up for great success with the help of our new distributor". Statewide Beverage has over 4,000 retailers on their client list, but we are also targeting prominent licensed California cannabis retailers, we have been inundated with inquiries from wholesalers and distributors from around the country, and have even had requests from international vendors. ENDO Water™ is a great tasting sugar-free functional beverage. We are uniquely approaching the hemp extract market by putting the consumer; first, our prices are fair, and the quality is second to none." states Daniel Crawford CEO. "It has been estimated that Los Angeles will become the world's largest cannabis market, the world is paying attention to what is going on here, and Right On Brands is based in the epicenter. Some people believe that with 14+ million people in Los Angeles County, and with 48 million visitors each year the market potentially eclipses states like Colorado and Washington which have already legalized recreational cannabis. Right On Brands is right On target in Southern California."
About Right On Brands, Inc.
Right On Brands, Inc., a Santa Monica California based consumer goods company specializing in the development of exceptional wellness brands, primarily hemp-infused food and beverage products. The company consists of three subsidiaries Humbly Hemp™, Endo Brands™ and Humble Water Company™.
Humbly Hemp™ is a product line of delicious hemp-based products. The snack line features hemp-based foods that will delight the palette of consumers and thrill retailers with America's fastest growing food category. (Available on Amazon.com)
Humbly Hemp™ snack bars are straightforward, delicious, and jam-packed with the best ingredients on earth. Each bar is kosher, vegan, soy free, dairy free, gluten-free, and free of all top 11 allergens. Our protein bars are based with Gluten Free Rolled Oats, Hemp seeds, and Plant Protein. We offer three flavors: Cinnamon Date, Berry Vanilla, and Cocoa + Sea Salt.
Order Humbly Hemp at: https://www.humblyhemp.com/
Endo Brands™ is a CBD company that focuses on a line high-quality hemp extract products. Endo Select Hemp Oil is the proprietary ingredient used to infuse products like Endo Water, and Endo Drops along with many more.
Endo Water™ is pH balanced, micro-clustered for bioavailability and oxygenated for improved performance and energy. We infuse this functional beverage with Endo Select Hemp Oil, and flavor it with natural essential oil based flavors. It refreshes with every sip and helps improve overall wellness.
Available in four flavors: Berry Acai, Lemon Lime, Cucumber, Watermelon
Endo Drops are alcohol-free coconut oil based tinctures that you take orally by mouth. Tinctures are an easy method of administering, making it a good option for those who require multiple supplements throughout the day.
Available in three flavors Berry, Ginger Citrus, and Mint.
Order Endo Brands products at: https://www.endobrands.com/
Humble Water Company™ is proud to present Earth's Circle™ natural spring water sourced from a pristine ancient ice age aquifer untouched by man at the foothills of the mighty Rocky Mountains located at the only triple watershed in North America. Our water source is surrounded by wilderness and protected by the Blackfeet Indians to provide the purest of water sources. The deep underground aquifer ensures Humble Water™ doesn't need to go through any man-manipulated purification processes. Humble Water™ is high in natural alkalinity and pure as the driven snow. This product will be available soon.
Visit our corporate website at: https://RightOnBrands.com.
Visit us on Facebook: https://www.facebook.com/humblyhemp/?fref=ts
Follow us on twitter: https://twitter.com/HumblyHemp?lang=en
Join in on the conversation at Investors Hangout: https://investorshangout.com/Right-On-Brands-Inc-RTON-91651/
Safe Harbor Act: This release includes forward-looking statements made pursuant to the safe harbor provisions of the Private Securities Litigation Reform Act of 1995 that involves risks and uncertainties including, but not limited to, the impact of competitive products, the ability to meet customer demand, the ability to manage growth, acquisitions of technology, equipment, or human resources, the effect of economic business conditions and the ability to attract and retain skilled personnel. The Company is not obligated to revise or update any forward-looking statements in order to reflect events or circumstances that may arise after the date of this release.
For Right On Brands Distribution Contact:
Daniel Crawford (424) 259-3521
[email protected]