LOS ANGELES, CA , Jan. 31, 2018 (GLOBE NEWSWIRE) — Right On Brands, Inc. (OTCQB: RTON) has expanded its distribution in Southern California by partnering with Statewide Beverage Company headquartered in Los Angeles with regional distribution centers in Commerce, San Diego, and Inland Empire.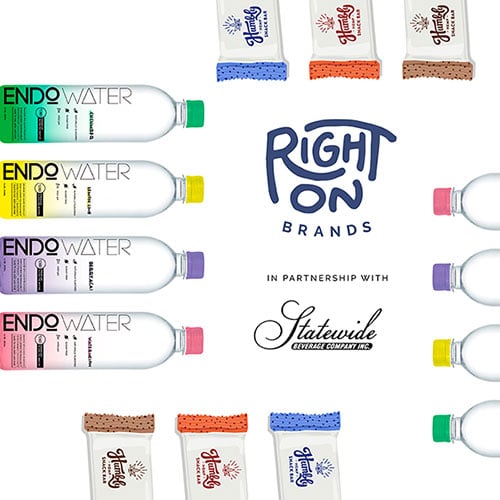 Endo Water is a premium CBD flavored water available in four delicious flavors. Endo Brands CBD products are a great addition to enhance the wellness of your life. Endo Water is a pH balanced water infused with a 99.9% pure cannabinoid-rich hemp oil processed using Nano Technology that makes the particles one-millionth of its normal size. This process allows the Nano-Sized CBD's to immediately penetrate your cells as opposed to the lengthy process of being absorbed by the body's digestive system. Available in four flavors: Berry Acai, Lemon Lime, Cucumber, Watermelon
Jeff Javidzad, CEO of Statewide Beverage Company, states, "We are delighted to be partnered with Right On Brands and to be the first to distribute the Endo Water CBD flavored water in Southern California. As consumers are becoming increasingly aware of the potential benefits that cannabinoids offer, the demand for CBD infused products has become extremely intriguing and notable in the field of natural health. Our health and wellness-focused retail clients are constantly asking for CBD infused drinks and products for their health-conscious consumers. Humbly Hemp products are also part of the distribution agreement and are expected to do well especially in convenience stores and other retailers that have dedicated "better for you" snack isles."
Statewide Beverage Company will bridge the introduction of this product to the consumer, bringing CBD flavored drinks to the masses. Statewide is a formidable distributor in the California market, and we are proud to join their roster of product offerings." states Daniel Crawford. CEO. "Statewide's fast-growing customer base includes over 4,000 chains and independent convenience stores and supermarkets. The advantage of utilizing a reliable DSD distributor is huge in the highly competitive beverage & snack distribution arena with the assistance of a territory leader."
About Statewide Beverage Company, Inc.:
Statewide Beverage Company, headquartered in Los Angeles California with distribution warehouses in Commerce, San Diego and Inland Empire distributes a full line of beverages including Beer, Wine, non-alcoholic beverages and premium waters to retailers across Southern California. Founded in 2011, Statewide has cultivated one of the largest, most efficient and reliable Direct Store Distribution (DSD) networks in Southern California. Statewide is focused on providing excellent service to all of their customers and suppliers. Statewide's fast-growing customer base includes over 4,000 retail chains and independent stores and continues to grow. Statewide delivers some of the world's most recognized brands such as Nestle, Arizona Iced Tea, Welch's Juice and Snyder Lance alongside innovative beverage brands such as Aspire, Detox Water and Vita 500 to name a few.
Visit the online catalog at: http://statewidebevco.com/
About Right On Brands, Inc.:
Right On Brands, Inc., a Santa Monica California based consumer goods company specializing in the brand development of health conscious, hemp-infused food and beverage products. The company consists of three subsidiaries Humbly Hemp, Endo Brands, and Humble Water Company.
Humbly Hemp is a product line of delicious hemp-based snack bars. The snack line features hemp-based foods that will delight the palette of consumers and thrill retailers with Americas fastest growing food category. (Available on Amazon.com)
Humbly Hemp snack bars are straightforward, delicious, and jam-packed with the best ingredients on earth. Each bar is kosher, vegan, soy free, dairy free, gluten-free, and free of all top 11 allergens. Our protein bars start with a base of Gluten Free Rolled Oats, Hemp seeds, and Plant Protein. We offer three flavors: Cinnamon Date, Berry Vanilla, and Cocoa + Sea Salt.
Order Humbly Hemp at: https://www.humblyhemp.com/
Endo Brands CBD's are a great addition to increase overall wellness of your life. CBD oil can now be formulated to be used in food, drink, and your favorite snacks.
Endo Water is pH balanced, micro-clustered for antioxidant protection and oxygenated for improved performance and energy.
Available in four flavors: Berry Acai, Lemon Lime, Cucumber, Watermelon
Order Endo Water at: https://www.endobrands.com/
Humble Water Company presents Earth Circle a natural spring water sourced from a pristine ancient ice age aquifer untouched by man at the foothills of the mighty Rocky Mountains located at the only triple watershed in North America. Our water source is protected by the Blackfeet Indians ensuring the purest of water sources. Earths Circle is high in natural alkalinity and pure as the driven snow.
Earth's Circle water is untouched, pristine nature at its best that has been shared by the Native American community and packaged in an eco-friendly recyclable bottle.
Visit our corporate website at: https://RightOnBrands.com
Visit us on Facebook: https://www.facebook.com/humblyhemp/?fref=ts
Follow us on Twitter: https://twitter.com/HumblyHemp?lang=en
Join in on the conversation at Investors Hangout: https://investorshangout.com/Right-On-Brands-Inc-RTON-91651/
Safe Harbor Act: This release includes forward-looking statements made pursuant to the safe harbor provisions of the Private Securities Litigation Reform Act of 1995 that involves risks and uncertainties including, but not limited to, the impact of competitive products, the ability to meet customer demand, the ability to manage growth, acquisitions of technology, equipment, or human resources, the effect of economic business conditions and the ability to attract and retain skilled personnel. The Company is not obligated to revise or update any forward-looking statements in order to reflect events or circumstances that may arise after the date of this release.
For Right On Brands Distribution Contact:
Daniel Crawford
(424) 259-3521
[email protected]