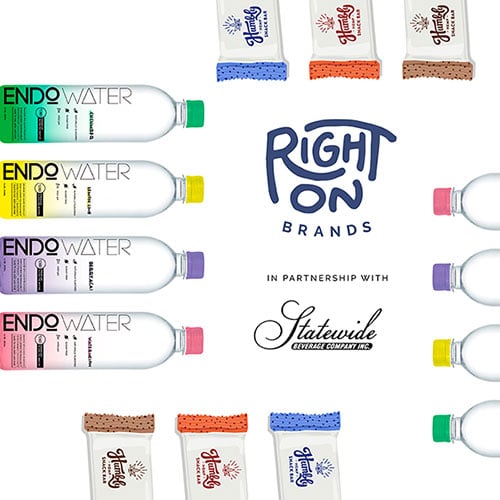 Los Angeles, California, March 01, 2018 (GLOBE NEWSWIRE) — Right On Brands, Inc.™ (OTCQB: RTON) will be an exhibitor at the 37th annual Natural Products Expo West, March 9th-13th at the Anaheim Convention Center. A record-breaking crowd is expected at this year's event, and Right On Brands local marketing partner Statewide Beverage will be there to sign up new interested retail clients.
The Natural Products Expo West & Engredea is the world's most significant natural, organic and health products event. Last year a record-setting 80,000 attendees including industry pioneers and a new generation of innovators attended the Natural Products Expo.
Rated as one of the top 200 trade shows in the US by Tradeshow Week this event is the biggest of its kind in the natural products industry. Everything from food, drinks, supplements, clothing, makeup, packaging, pet products and so much more are all showcased in hopes of becoming the next must-have health item for your shopping list. Attendance at this event is a huge stepping stone for any break our CPG company. This year's event will highlight a new emerging natural products segment Cannabidiol (CBD) products. The CBD Summit will be a chance for industry marketing experts to understand better the opportunities and challenges that exist for the hemp-derived cannabidiol market in the United States.
"The Natural Products Expo West is the most important healthy products show, and we are fortunate to have it right in our backyard. Attendance has been increasing by industry insiders at a staggering rate from year to year. This is the single best opportunity we will have to get both regional and national exposure to our brands," states Daniel Crawford CEO. "For those who are planning to attend the event Right On Brands will be located in booth #7106, and we will be exhibiting the complete line of Humbly Hemp and Endo Brands products at the show. The relaxation of cannabis and CBD legislation nationwide will certainly make our product line a must stop and see part of this year's show. We believe the family of cannabinoid-based products offered by Right On Brands will be the fastest growing new category of healthy natural products industry-wide."
Expo West Music Video:
https://www.youtube.com/watch?v=oDwqmJ7z4rg&feature=youtu.be
About Right On Brands, Inc.:
Right On Brands, Inc. ™, a Santa Monica California based consumer goods company specializing in the brand development of health conscious, hemp-infused food and beverage products. The company consists of three subsidiaries Humbly Hemp™, Endo Brands™ and Humble Water Company™.
Humbly Hemp™ is a product line of delicious hemp-based plant protein products. The snack line features hemp-based foods that will delight the palette of consumers and thrill retailers with America's fastest growing food category. (Available on Amazon.com, and humblyhemp.com)
Humbly Hemp™ snack bars are straightforward, delicious, and jam-packed with the best ingredients on earth. Each bar is kosher, vegan, soy free, dairy free, gluten-free, and free of all top 11 allergens. Our protein bars feature a base of Gluten Free Rolled Oats, Hemp seeds, and Plant Protein. We offer three flavors: Cinnamon Date, Berry Vanilla, and Cocoa + Sea Salt.
Order Humbly Hemp at: https://www.humblyhemp.com/
Endo Brands™ Cannabinoid products are a wholesome addition to increase overall wellness in your life. We infuse our ENDO Hemp CBD oil in supplements, drinks, and your favorite snacks.
Endo Water™ pH balanced, micro-clustered for antioxidant protection and oxygenated for improved performance and energy.
Available in four flavors: Berry Acai, Lemon Lime, Cucumber, Watermelon, with a PURE unflavored version coming out in April.
Endo Drops are alcohol-free coconut oil based tinctures that you take orally by mouth.
Available in three flavors: Berry, Ginger Citrus, and Mint.
Order Endo Brands products at https://www.endobrands.com/
Visit our corporate website at https://RightOnBrands.com
For Right On Brands Distribution Contact:
Daniel Crawford: (424) 259-3521
Interested Southern California retailers, please contact Statewide Beverage at: (323) 767-1500
Visit us on Facebook: https://www.facebook.com/humblyhemp/?fref=ts
Follow us on Twitter: https://twitter.com/HumblyHemp?lang=en
Join in on the conversation at Investors Hangout: https://investorshangout.com/Right-On-Brands-Inc-RTON-91651/
Safe Harbor Act: This release includes forward-looking statements made pursuant to the safe harbor provisions of the Private Securities Litigation Reform Act of 1995 that involves risks and uncertainties including, but not limited to, the impact of competitive products, the ability to meet customer demand, the ability to manage growth, acquisitions of technology, equipment, or human resources, the effect of economic business. Conditions and the ability to attract and retain skilled personnel. The company is not obligated to revise or update any forward-looking statements in order to reflect events or circumstances that may arise after the date of this release.