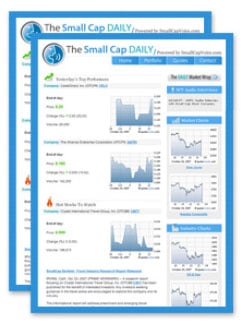 Sign up today to receive our FREE daily newsletter!
Small Cap Daily is a FREE, daily investment newsletter that gets delivered directly to your desktop just minutes after the market's opening bell. Discover the latest small cap investment news, ideas, views, and insights on what's moving today's market. Find out what you need to know to make intelligent small cap investment choices and potentially grow your money. Economic trends, research reports, gold, silver, oil, interest rates, CEO interviews, top-performing stocks, investment fact sheets, and more – it's all covered in The Small Cap Daily.
To subscribe, just enter your email address and click the button below. You can cancel your subscription at any time. To ensure delivery, please add [email protected] to your white list. See white list help for details.
What can The SmallCap Daily do for you?
"The Small Cap Daily" newsletter from SmallCapVoice.com, Inc. tracks SmallCap stocks listed on the Small Cap OTC and Pink Sheet markets on a daily basis. We provide our readers with important information to assist in SmallCap investment decisions. Anyone venturing into the SmallCap market needs to be armed with as much timely due diligence as possible, but most investors become daunted by the shear volume of information available.
We organize the data and provide useful tools such as research reports, audio interviews, stock charts, investor fact sheets, and much more so you can have the most up to date SmallCap Market, OTC and Pink Sheet information available to you right in your email box. This information can help investors identify and track SmallCap stocks that are on the rise and positioned for success!
Timing is everything and we can help investors succeed, let the The Small Cap Daily provide you with all the tools and information needed to make informative investment decisions.
Email Privacy Policy
We have created this email privacy policy to demonstrate our firm commitment to your privacy and the protection of your information.
Why did you receive an email from us?
If you received a mailing from us, (a) your email address is either listed with us as someone who has expressly shared this address for the purpose of receiving information in the future ("opt-in"), or (b) you have registered or purchased or otherwise have an existing relationship with us. We respect your time and attention by controlling the frequency of our mailings.
How we protect your privacy
We use security measures to protect against the loss, misuse and alteration of data used by our system.
Sharing and Usage
We will never share, sell, or rent individual personal information with anyone without your advance permission or unless ordered by a court of law. Information submitted to us is only available to employees managing this information for purposes of contacting you or sending you emails based on your request for information and to contracted service providers for purposes of providing services relating to our communications with you.
How can you stop receiving email from us?
Each email sent contains an easy, automated way for you to cease receiving email from us, or to change your expressed interests. If you wish to do this, simply follow the instructions at the end of any email.