Who is True Nature Holding, Inc. (OTCQB: TNTY)?
True Nature is an emerging growth public company that continues to refine its strategy and focus in the healthcare information technology (IT) domain to deliver solutions and services that are transformational in addressing the changes and unique requirements of the healthcare ecosystem. Some market shift include value-based care, population health, and consumerism in healthcare. TNTY is driven to create shareholder value by developing and acquiring innovative technology-based solutions to improve healthcare and outcomes. True Nature Holding believes it can help reduce the cost of healthcare while helping improve the quality of care and lives of consumers.
Our approach is to develop these business opportunities as individual "threads" in response to client needs, ultimately delivering a set of focused solutions from in a range of market segments from end users, human healthcare providers, veterinary professionals, to name but a few. Further, we expect to assist suppliers to the healthcare industry by allowing them to deliver technology solutions that strengthen relationships with their clients in a "top-down" distribution model. We seek to develop and/or acquire healthcare IT solutions focused on:
• Patient engagement and communication
• Care coordination
• Remote monitoring
• Data analytics
• Blockchain RX
• Encrypted APP development
Going forward, TNTY has shifted focus toward providing technology that benefits both Human and Veterinarian care using Telehealth and Telemedicine Solutions.
How is Healthcare Evolving?
| Healthcare Transformation | 2015 | 2020 |
| --- | --- | --- |
| Approach | One size fits all | Personalized Medicine |
| Information Flow | Fragmented, one-way | Integrated, two-way |
| Focus | Provider Centric | Patient Centric |
| Location | Centralized, hospital based | Decentralized, community based |
| Decision Making | Fragmented, specialized | Collective, shared |
| Care Delivery | Treating sickness | Preventing sickness, wellness |
As reported in GeekWire investments in Digital Health jumped 21% In 2018 hitting an all-time high of $8.6B.

Wallstreet believes growth in Digital Health will continue as firms moving from raising funds to delivering solutions on a greater scale.

The three largest Digital Health deals accumulatively raised $1.2B and have a cap value of over $10B.

The greatest opportunity are still to be realized with over 50% of the deals closed were in seed rounds and Series A rounds.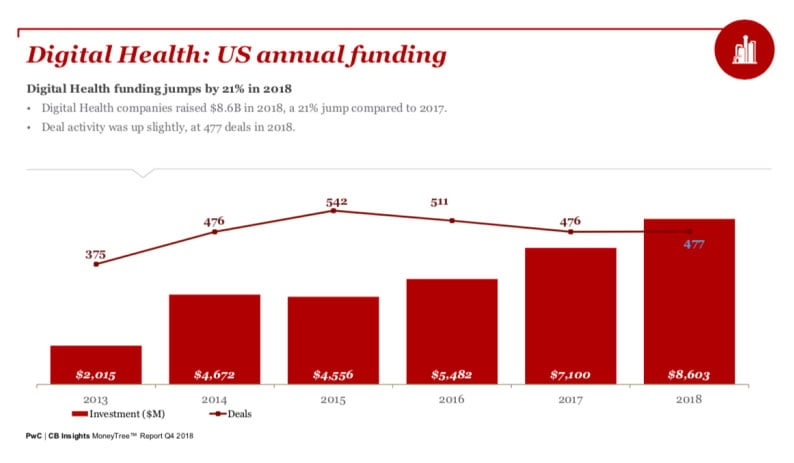 Apple, Amazon, Google and Microsoft are spending billions in the healthcare vertical on infrastructure, devices, services, integration, delivery and consumer and provider experience.
To deliver on their vision of healthcare each of these giants will be partnering with supporting firm to deliver solutions and IT-enabled services on their behalf. We currently have key relationships with each and are looking to expand these relationships to be a keep partner with each in different areas.


By way of these partnerships allows us the ability to be nimble and adjust our acquisition targets to leverage our relationships to provide a wider range of solutions and IT-enabled services that support their healthcare missions and visons and ours as a key business partner.
What is Telemedicine?
Telemedicine is the remote delivery of health care services and clinical information using telecommunications technology. "The rise of the internet age brought with its profound changes for the practice of telemedicine. The proliferation of smart devices, capable of high-quality video transmission, opened up the possibility of delivering remote healthcare to patients in their homes, workplaces or assisted living facilities as an alternative to in-person visits for both primary and specialty care."*
We believe there is an opportunity to develop telemedicine solutions for both the Human and Vet Healthcare market that:
Creates a low threshold entry point and remote access to healthcare services through telecommunications technology
Improves patient engagement, care quality and coordination
Maintains a HIPPA compliant platform that meets the high standards of encryption and security
Allows seamless integration with Health Systems Electronic Medical Record (EMR's) and Practice Management Systems (PM's)
Offers a platform that can be implemented in both human and veterinarian telemedicine market place
Provides an opportunity to increase revenue for medical providers and veterinarians
Design all products and services for low-cost, easy adoption into both Human and Veterinary Markets
Focuses highest priority to veterinary, rural and underserved human, and emerging markets
Telemedicine can help Pets, and their Vets, improve healthcare. According to Veterinary business specialist Ed Blach, DVM, MBA:*:
40 percent of veterinarians do not answer client questions by phone. They instead ask clients to come in to the clinic.
70 percent of veterinarians believe that technologies can strengthen the veterinarian-client relationship.
85 percent of pet owners find that the connection to a veterinarian via telehealth is appealing.
When implemented properly, telemedicine can benefit pets, animal owners and veterinarians alike by:
Increases rate of in-person office visit follow-ups and preventative care
Easily monitor in-home progress of physical therapy, post-surgical and hospice routines
Improves patient engagement and continuity of care
Unlike the Human telehealth industry, today there are few companies that provide telehealth solutions that meet the Vet-Client relationship serving an estimated 65,000 Veterinarians in the US.
True Nature targets early-to mid-stage investment opportunities that align with our overall investment focus and strategy. We strive to add value to the investment and align the investment with our other portfolio companies. This allows us to realize the greatest operational synergies while leveraging our portfolio for investment performance and optimizing shareholder value.
Market Information
Market Cap: 2,747,360 03/12/2019
Authorized Shares: 500,000,000 02/25/2019
Outstanding Shares: 31,398,403 02/25/2019
Restricted: 19,933,191 02/25/2019
Unrestricted: 11,465,212 02/25/2019
Held at DTC: 10,384,202 02/25/2019
Float: 11,015,045 12/30/2018
Shareholders of Record: 526 04/17/2018
Transfer Agent: TranShare Corporation
Key Executives
James Crone – President, CFO