Rally On, Traders!
It's been a cold year for most "Big Green" cultivator stocks . . . the big names like Tilray, Aurora and Canopy, let alone the funds that overweighted those stocks. I'm going to show you those charts as a reminder. Then I want you to compare them to what Medicine Man Technologies Inc. (OTC:MDCL) has been doing and where it can go from here.
It all goes back to the business model. The billion-dollar growers up in Canada are growing too much of the raw plant product. They're flooding the market and wholesale prices have plunged. Basic commodity math.
OF COURSE WE AREN'T ADVERTISING THOSE RETAIL PRODUCTS. WE'RE TALKING ABOUT THE STOCKS HERE. INVESTMENT OPPORTUNITIES.
But from an investment POV, those retail prices are set artificially high to make sure the public doesn't "over indulge." When wholesale prices drop and retail prices are fixed, the RETAILER gets to keep everything in the middle. That's a win for them and for the investors who invest in them.
And it's pretty hard to tell one commodity player from the next when the stocks start following. Here's the big boys along with the ETF that holds them all: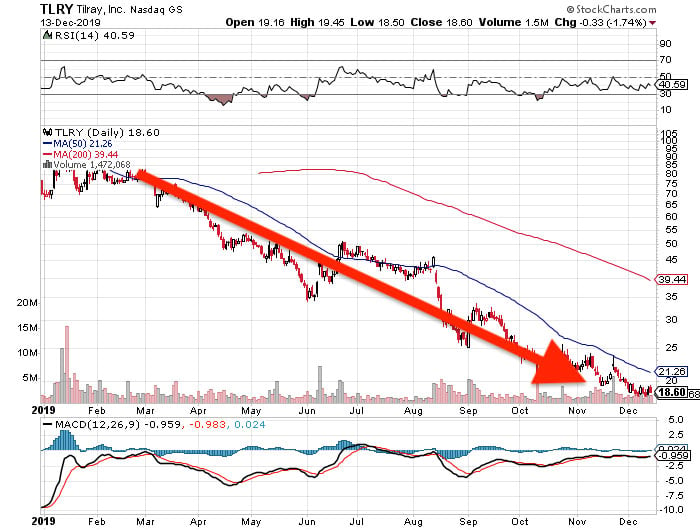 But you'll notice that last chart is a little different. That's Canopy, rebounding a staggering 50% from its depths over the last few weeks. What's their secret? They just got a new CEO. A grown-up, somebody who will work with the biggest investors in the company to get results.
Of course that's a $2 billion company already. The heavy lifting and the big fun have already been done, so bringing in fresh management doesn't really change the big game. That's why I'd rather bask in the glory of MDCL, up 120% YTD and no long-term ceiling in sight:
With a trend like that, the clock is ticking a little urgently for green investors to figure out what this company is all about NOW. You'll see a longer chart later. For now, MDCL is on a steep path to glory, a bona fide glory road. Let Big Green suffer. This is a completely different story.
The guy who used to be a big deal at Albertson's is now the CEO here. Back there, he was chief operating officer, chief administrative officer, chief strategic officer, you name it.
Here at MDCL, he's responsible for strategy and execution, which immediately means consolidating a lot of recent acquisitions into a truly integrated vertical enterprise. Check out the LinkedIn. He's a grown-up, a serial entrepreneur.
And he loves MDCL. His firm had already committed $14 million of private equity to this company. Then he kicked in enough cash to raise his stake another 50%.
His firm is no nonsense. They don't look like the types who hear about a fad and let FOMO take over so they can keep up with the Bains and Carlyles and Goldman Sachs of the world. Check out the portfolio. It's serious, buttoned down stuff with a clear revenue model: local banking, better charging systems for mobile devices and yeah, MDCL.
They didn't put their $21 million in Big Green. This is where those smart guys (who know ground-level retail from the ground up) decided to play the boom.
If the Dye Capital guys are right, MDCL is the heart of a dominant player of tomorrow in one of the most vibrant industries of today… in one of the oldest and most receptive jurisdictions… a pure Mile High play.
Of course down here around $3 a share and $135 million in market cap, this ride looks closer to the start than the final destination. A lot of people have heard of Aurora or Canopy or Tilray, which is why those are multi-BILLION-dollar stocks . . . but don't know Medicine Man from a brand of rolling paper. As the word spreads, those that want a piece of the real action can still get in early.
This isn't a $5 billion monster like the household names. If MDCL reaches that level, shareholders will cheer. Even if it hits 1/2, 1/10, 1/20 of that scale, this is a MONSTER play.
But what's MDCL all about? Happy you asked because that's where the opportunity and the dynamism are all about . . . the steak and the sizzle, if you want to think about it in those terms.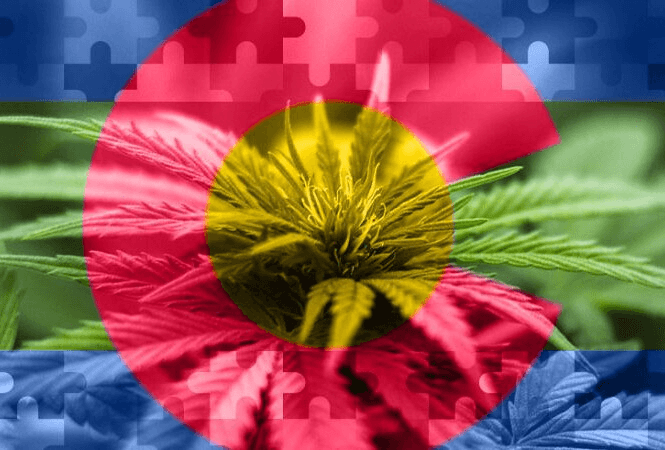 This SAFE Act does two things for the green industry in every state in the union. First and foremost, companies like MDCL no longer have to operate in a cash-only world. That's enormous when the overall business is booming with $13 BILLION in legal sales projected this year alone.
And then it's a clear signal that the House is looking to support this industry nationwide. The Senate has made its own friendly overtures. We'll have to see. But it's clear that the landscape is changing FAST.
That's a big deal. The kind of game-changing headline that can get Big Green rolling again after a rainy season. MDCL didn't need the help . . . this relatively obscure sub-$4 stock has already TRIPLED in the last 24 months. But if this news accelerates that journey, WOW.
And that's the kind of win MDCL has been rolling up in one of the biggest green states on the map. We're talking about Colorado retail here… which until very RECENTLY was completely OFF LIMITS to most ground-level investors.
MDCL has been very, very busy. Since April it's made no fewer than TWELVE acquisitions and now at last management has told us how all the pieces put together. Just skim that last link. There's a LOT of stuff in there, from cultivation to value-added products, with a few dozen fully licensed retail outlets along the way.
That's big. We'll lay them out one by one later on, but the sum of the parts adds up to $170 million in revenue right now and 20% EBITDA margins before any synergies, efficiencies of scale or other benefits from what now looks like a vertically integrated Mile High empire in the making.
What's the total top line scenario? Consider: Big Green growers like Tilray command 17X revenue now. And yet MDCL is still only a $130M stock. If revenue starts at $170 million once all the puzzle pieces are in place, this stock can run rings around the big cultivators. MDCL is only a fraction of the first step down the road. DO THE MATH!
And don't be afraid of the giants. They're in the wrong end of the business with their sprawling greenhouses in places like Canada growing one of the hottest agricultural commodities around.
That's theoretically a good thing. But when too many people got the same great idea… at the same time… the commodity math gets UGLY.
Yeah, this is still a $12 billion retail business booming 35-40% a year. Investors who crave growth can reap enormous rewards playing that demand curve. People are making money in this space hand over fist.
But retail is the key word there. MDCL is consolidating Colorado store-level operations by the handful, rolling up tens of millions of revenue within subsidiaries in the process.
Meanwhile the big growers are so eager to grab their piece of that huge-and-exploding market (and show their shareholders the revenue) that their wholesale price per ounce is going DOWN.
Great for retailers who sell at a government-regulated price in places like Colorado because they can source raw product cheaper. NOT great for the big growers chasing each other down the hole of commodity economics.
Medicine Man Technologies started as a consultancy and under the "Medicine Man" subsidiary evolved into as close as it gets to a pure play on Colorado "green" retail. They don't call Denver the Mile High City for nothing. If this is a $12 billion business around the nation, Colorado accounts for $6 billion of that total market… so this is one of the HOTTEST jurisdictions around.
Colorado is big business, with more people than 60 countries including New Zealand, Finland, Norway and so on. And since 2014, it's become famous for getting friendly with one commodity in particular. You know the one. The state keeps careful records and about 15% of its 5.6 million population identifies as a consumer now, spending about $1.5 billion last year alone.
But until a few months ago the Mile High state of mind was only available to private investors. Public companies were locked out. Denver didn't want outside money and expertise horning in on the local boom. Then the rules changed and the borders opened to big wheels like the guys at MDCL.
The funny story about MDCL is that they were doing nicely working with Colorado growers and retailers as consultants, always one step removed from the real action. Overall revenue soared 168% last year and is already adding another 24% to that base here in 2019.
They're going from record to record. Cash is flowing and liquid reserves have doubled. No wonder the stock has run rings around the big boys!
However, MDCL management just wasn't satisfied taking a consultant's cut. They knew the business inside and out. People on their team literally wrote the book on how to operate in this space. They were raking in millions helping entrepreneurs around the country design better grow operations, run tighter retail stores and bring scientific reliability to what's otherwise a wild-and-woolly landscape.
It was great. But they were still eager to get more involved in the plant itself where the source of all wealth in this business derives. They literally wanted to get their hands dirty, especially in Colorado where the mountains shut outsiders out. I can't argue with them.
When the barriers came down, MDCL (the parent company) went in fast and furious, buying the state's biggest sustainable grow operation (it's also the biggest on the continent) and the associated retail / extraction businesses. The guy selling it is ambitious and near legendary in the industry.
He's thrown numbers like $20 million in revenue around. That's barely a scratch on the $1.5 billion Mile High opportunity, but it just shows you how fragmented the landscape is in this state when the largest "green gold" farm in America has only captured 1% market share so far.
MDCL isn't putting him out to pasture either. He's joining the board of directors and sharing his know-how to help take the company as a whole to the next level. After all, he knows Colorado. He's already built a sprawling 36-acre operation there that complies to the state's rigid regulations, where every sprout is electronically tagged and tracked from seed to sale.
Other people would probably have been happy to pause at that point and digest the acquisitions before moving on. MDCL, on the other hand, knows exactly what it wants.
Colorado may still be closed to plants grown elsewhere, but extracts and pharmaceutical ingredients follow different standards. That's where the NEXT phase kicks in.
MDCL paid $17 million in stock and cash to buy an extract manufacturer that's already doing $13.8 million in annual sales. First, the revenue is hugely accretive, roughly TRIPLING the existing run rate. Massive jolt of jet fuel on the fundamentals.
Then, there's another extract maker. No details on revenue but Benzinga was impressed enough to write up the deal. Based on the comps from that other acquisition, management might have seen the chance to add another $3 million a year to the run rate. Bing, bang, BOOM!
Remember, extracts can source raw material from anywhere. By the time it gets its final packaging and hits store shelves, it's a retail product, not an agricultural commodity. State by state, your job is just to ship the stuff out and collect the receipts.
There's no need to race to the bottom on pricing because the plant matter goes straight into the retail products MDCL subsidiaries now produce. Vertically integrated. Capturing margins every step of the way.
These products are already in 600 Colorado retail locations. Remember, MDCL knows Colorado retail. They helped a lot of these guys set up their stores early in the "green gold rush."
Here's your chance to go where they go. You never know, with an industry expanding 35% a year, this may only be the opening act. Everything on the table, in case you forgot:
And here's that long chart showing the 100% run rate every eight months over the last two years. Starts under $1. Nudging around $4 recently. Still a baby compared to those Big Cultivators we looked at earlier. Those stocks are melting down. This one points at bigger and better "green" to come:
What's the secret separating MDCL from those other stocks that have melted down over the same period?
Management.
Happy, Happy, Happy Trading!