Biotricity, Inc. (OTCQB:BTCY) ("Biotricity" or the "Company"), a medical diagnostic and consumer healthcare technology company. Biotricity is reforming the healthcare market by bridging the gap in remote monitoring and chronic care management. Biotricity is a modern medical technology company focused on delivering innovative, remote biometric monitoring solutions to the medical and consumer markets, including diagnostic and post-diagnostic solutions for chronic conditions and ​lifestyle improvement.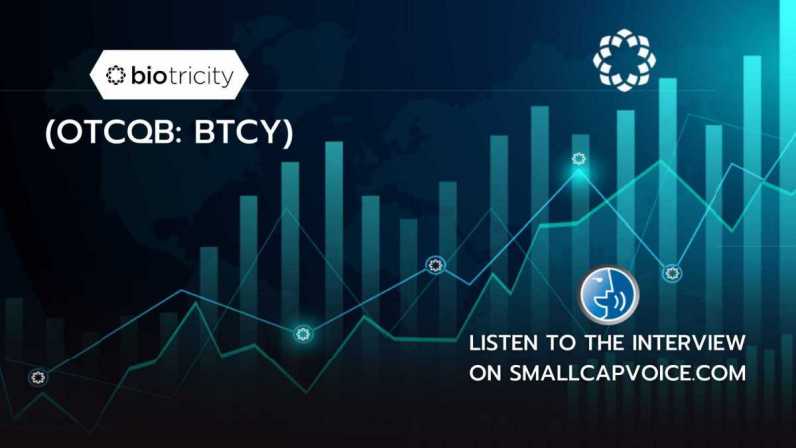 Doctors and patients trust Biotricity's unparalleled standard for preventive & personal care, including diagnostic and post-diagnostic products for chronic conditions. The company develops comprehensive remote health monitoring solutions for the medical and consumer markets. To learn more, visit
www.biotricity.com
.
Bioflux® provides real-time active monitoring – 24/7! Bioflux® is a high-precision, single-unit mobile cardiac telemetry (MCT) device that provides real-time monitoring and transmission of your ambulatory patients' ECG information. The Bioflux® system is a complete solution for remote cardiac monitoring that merges seamlessly with physicians' existing platforms and workflows. We track over 100 billion heartbeats a year, monitored in real-time by our certified cardiac technicians with unmatched reporting capabilities.
Biocare Telemed is a virtual clinic platform with secure HIPPA compliant technology. The platform enables clinicians to provide outstanding patient care remotely, ensuring at-risk patients and those needing remote cardiac monitoring do not have to leave the safety of their home. The user-friendly platform ensures seamless integration into the clinics' current workflow, saving time and reducing costs.
Bioheart is a personal heart monitor designed for the healthy. Bioheart was designed for managing a long-term chronic illness too. Bioheart is a must have for every household. The challenges of getting healthier are scary. From fighting decades-long lifestyle habits to a lack of evidence-based feedback to keep you going in your lifelong battle for a healthy lifestyle. Bioheart gives you all the tools you need to succeed – and it's easy to use. Bioheart will be available in June 2021.
For the patients this means:
For fiscal Q3 2021, BTCY management is reporting the following highlights:
Dr. Waqaas Al-Siddiq added, "We are coming out of the gate at a full sprint in 2021, with salesforce expansion and work underway on new products that will enable us to target a much larger segment of the cardiologist patient population. We spent years developing best-in-class technology coupled with a compelling technology as a service model. We are pleased with our results and look forward to further progress in upcoming quarters."